Separation Science, in collaboration with Shimadzu, offers a series of application notes covering everything from a high efficiency workflow for simple fractionation, examples of preparative purification and comprehensive fractionation of herbal medicine components. Click on the button below to download your personal copies.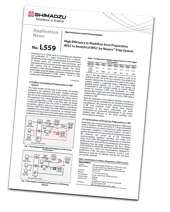 High Efficiency in Workflow from Preparative HPLC to Analytical HPLC by NexeraTM Prep System
This application shows how the Nexera Prep System allows you to carry out all the processes from purification of the target compounds by preparative LC-MS to purity confirmation of the acquired fractions and acquisition of the MS spectrum in a single series batch analysis, significantly improving efficiency.
Learning outcome:
Discover how the Nexera Prep System can significantly improve your HPLC workflow.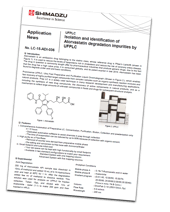 Isolation and Identification of Atorvastatin Degradation Impurities by UFPLC
This application shows how using UFPLC can dramatically speed up and enable high purity compound recovery when isolating and identifying Atorvastatin degradation impurities.
Learning Outcome:
Learn how UFPLC can improve analysis of Atorvastatin degradation impurities.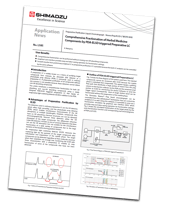 Comprehensive Fractionation of Herbal Medicine Components by PDA-ELSD Triggered Preparative LC
Herbal medicines can contain many unknown compounds that show pharmacological activity but have not been purified and identified. This article introduces comprehensive fractionation for both UV absorbing and non-UV absorbing compounds using a newly designed preparative LC equipped with both a PDA and an ELSD (Evaporative Light Scattering Detector).
Learning Outcome:
Discover how PDA-ELSD preparative LC can help in the analysis of unknown compounds found in herbal medicines.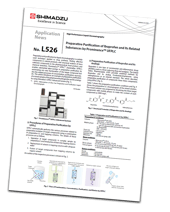 Preparative Purification of Ibuprofen and Its Related Substances by ProminenceTM UFPLC
This article introduces an example of preparative purification of a mixed sample of the pharmaceutical ibuprofen and its analogues by using Shimadzu's UFPLC Advanced System.
Learning outcome:
Learn how Prominence UFPLC can enable substantial labor-savings in preparative purification of pharmaceuticals.



For more resources about pharmaceutical analysis from Shimadzu click here >>