Are you looking for a comprehensive source of applications information for biopharmaceutical methods? If so, this biopharma applications compendium is what you need. Sign up to the Separation Science 'Biopharmaceutical Characterization Resource Center' to download your free copy...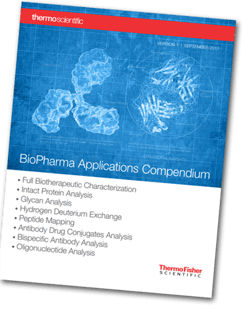 Thermo Fisher Scientific has compiled a comprehensive selection of key methods for analysing biotherapeutics. This 300+ page PDF offers methods and workflow solutions covering:
Full Biotherapeutic Characterization

Intact Protein Analysis

Glycan Analysis

Hydrogen Deuterium Exchange

Peptide Mapping

Antibody Drug Conjugates Analysis

Bispecific Antibody Analysis

Oligonucleotide Analysis
Sections are further divided into key challenges and technologies, and methods presented in full detail. Included in the compendium are case studies performed in association with companies and institutions including The National Institute for Bioprocessing Research and Training (NIBRT), Allergan and Ludger.
Technologies such as LC-MS, SEC-MS, reversed-phase LC, hydrophobic interaction chromatography (HIC), ion exchange chromatography and high-performance anion exchange chromatography-pulsed amperometric detection (HPAE-PAD) are all featured throughout the compendium.