This application demonstrates an effective method for the analysis irbesartan using Shimadzu's integrated LC system, the Nexera™ - i MT.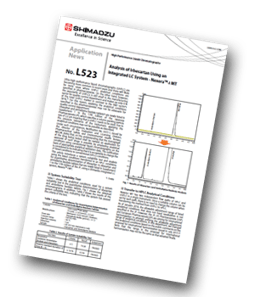 Throughout the entire pharmaceutical process, from research to quality control, the use of either one of these liquid chromatographs (HPLC or UHPLC) may be encountered. In addition, direct analysis using the pharmacopeia-specified analytical conditions may not be possible due to the pressure tolerance of your current LC instrument. To facilitate the seamless transfer of LC analytical methods, Shimadzu developed the integrated LC system, Nexera™-i MT. This system, which contains two independent flow paths, requires no need for changing of columns and allows effortless method transfer (UHPLC ⇔ HPLC) in a single instrument.

In this article, the analysis of irbesartan and amlodipine besilate was performed using Nexera™-i MT. Our results show the reliable transfer of the listed analytical conditions for these two compounds, and also fulfilled the criteria for the system suitability test by the Japanese Pharmacopeia.