Ted Pella presents the AuSome™ combined resolution and calibration standards for nanoscale imaging. These consist of known and uniform gold particles on a silicon chip.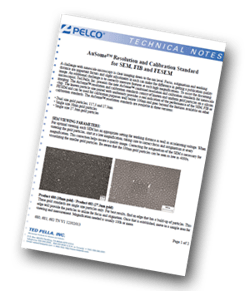 Introduction
A challenge with nanoscale microscopy is clear imaging down to the nm level. Focus, astigmatism and working distance are important factors and slight adjustments in each can make the difference in getting a publication quality image. An additional challenge is to correctly measure features at such high magnifications. To assist the discerning microscopist, Ted Pella presents the AuSome™ combined resolution and calibration standards for nanoscale imaging. The known particle size paired with uniformity provides a real indication of the performance of the SEM, FIB or FESEM and can be used for calibration purposes well below 100nm and goes beyond the features available on other calibration standards. The AuSome™ resolution standards are available in three versions.
• Dual size gold particles; 117,3 and 27.3 nm
• Single size 38 nm gold particles
• Single size 27.3 nm gold particles
SEM Viewing Parameters
For optimal viewing, each SEM has an appropriate setting for working distance as well as accelerating voltage. When viewing the gold particles, start at a low magnification, taking care to correct focus and astigmatism at every magnification. This correction helps insure a quality image. Correcting for astigmatism of the SEM is necessary for visualizing the smaller gold particles. Be aware that the 100 nm gold particles can be seen as low as 4000x.
Product 680 (38 nm gold) / Product 681 (27.3 nm gold)
These gold standards are single size particles only. For best results, find an edge that has a build-up of particles. This edge will provide the particles to utilize for focus and stigmation. Once that is established, move to a sample area for viewing and measurement. Magnification needed is usually 100k or more.
Product 682 Dual Size Particles (117 & 27.3 nm)
Begin with the larger particles for focus and astigmatism. These clusters provide areas for resolution and calibration. The smaller particles are the coating on the silicon substrate. These offer a check of high resolution magnification.