In recent years quantitative NMR (qNMR) spectroscopy has become one of the most important tools for content determination of organic substances and quantitative evaluation of impurities. The implementation of qNMR for new application fields, e.g., metabolomics, environmental analysis and physiological pathway
studies, brings along more complex molecules and systems, thus making the use of 1H-qNMR challenging. A smart workaround is possible through use of other NMR active nuclei, namely 31P and 19F.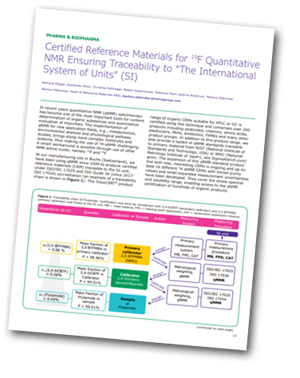 At its manufacturing site in Buchs (Switzerland), Merck KGaA has been using qNMR since 2009 to produce certified reference materials (CRM) traceable to the SI unit, under ISO/IEC 17025 and ISO Guide 34 (since 2017: ISO 17034) accreditation. The TraceCERT® range of organic CRMs suitable for HPLC or GC is certified using this technique and comprises over 200 products including pesticides, vitamins, amino acids, plasticizers, PAHs, antibiotics, FAMEs and many other product groups. In addition to this product range, Merck KGaA also provides a toolkit of qNMR standards traceable to primary material from NIST (National Institute of Standards and Technology, USA) or NMIJ (National Metrology Institute of Japan). The expansion of this qNMR standard product line with new, interesting CRMs is ongoing and up-todate 16 different 1H qNMR CRMs with known purity values and small expanded measurement uncertainties have been developed. They cover the whole spectral and solubility range, enabling access to the qNMR certification of hundreds of organic products.
In certain cases, 1H qNMR reaches its limits, especially regarding the certification of complex and larger molecules. However, new fields of application often also bring along the presence of heteroatoms, namely 31P and 19F. Thus Merck KGaA introduced 4 CRMs for 31P qNMR with traceability to the SI. In this article, the development of CRM for the use in 19F qNMR is described.
Download this article to discover how qNMR using 1H, 31P, or 19F TraceCERT® CRMs is a very valuable method. We outlined sensitive aspects that are important for an accurate qNMR certification and need particular awareness by the operator. The presented set of 1H, 31P, and 19F qNMR CRMs is produced fulfilling the requirements for a reference material producer under ISO 17034 accreditation, covering additional data such as homogeneity of the material and short-term and long-term stability.