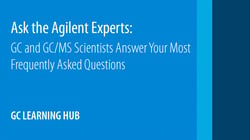 Separation Science, in collaboration with Agilent, offers a series of tutorials aimed at the GC and GC/MS user that form part of the 'GC Learning Hub'. In this tutorial some of the most frequently asked questions about GC and GC/MS are addressed. If you have a question about your GC or GC/MS analysis you can guarantee that you won't be the first person to ask it. Take a look and find the answers to some of these most frequently asked questions.
Modules:
Module 1: How Long Should My Liner Last?
Module 2: How Long Should My Column Last?
Module 3: Where Do Ghost Peaks Come From?
Module 4: How Often Should You Tune Your Mass Spectrometer?
Module 5: Why Does the Baseline Increase at the End of the Run?
Module 6: Why Do Peaks Tail?
Module 7: What Happens if My Sample is in Water?
Module 8: What Steps Would You Take to Determine the Source of Contamination Within Your Chromatograph?
Run Time: 75 minutes

By viewing this tutorial you will learn...
best practices with GC and GC/MS systems – from liner and column selection to why gas filters matter and instrument prep recommendations, and
why there is not always an easy answer to most GC(MS) questions.
The Presenters

Angie Smith-Henry
(Applications Chemist for GC and MS Supplies, Agilent)
Angie is is an applications chemist for GC and MS Supplies at Agilent in Wilmington, Delaware, USA. Previously, she was an applications chemist for the MSD Solutions and Applications group with a focus on developing analysers and applications for energy, chemical and environmental markets. Angie holds a PhD in Physical Chemistry from Lehigh University and BS in Chemistry from Juniata College.

Vanessa Abercrombie
(Gas Chromatography Applications Chemist, Agilent)
Vanessa is a GC Applications Chemist at Agilent in Folsom, California, USA. Vanessa has a broad background in GC and GC/MS, including experience as an instrument chemist at Bode Technology in Virginia working under contract to the FBI's Laboratory Division. Prior to that, Vanessa worked for ETS Labs in St. Helena, California as an Analytical Chemist where she researched and developed quantitative separations by GC/MS and UHPLC for beer, wine, and spirits. She holds a Master of Forensic Science from The George Washington University and a Bachelor of Arts in Chemistry from Sonoma State University.

Diane Turner
(Director & Senior Consultant, Anthias Consulting)
Diane Turner is Director and Senior Consultant of Anthias Consulting in Cambridgeshire, UK. A Warwick University graduate, Diane completed her masters in Analytical Chemistry and started her career in environmental chemistry, later gaining significant experience as an Applications Chemist. Diane's area of research through her PhD studies at The Open University was disease diagnosis. She has developed methods for, and given support and training for companies in most industries around the world for more than 20 years. Diane also holds voluntary roles with The Royal Society of Chemistry and other scientific organisations.