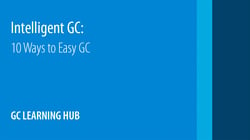 Separation Science, in collaboration with Agilent, offers a series of tutorials aimed at the GC and GC/MS user that form part of the 'GC Learning Hub'. In this tutorial you will learn a host of useful tips and tricks to streamline your daily workload leading to increased productivity with improved throughput with sample overlap.
Modules:
Module 1: Gas Clean Fliter & Sensor
Module 2: Gas Saver
Module 3: Autonomous Testing
Module 4: Self-tightening Nuts
Module 5: Columns with Smart Keys
Module 6: Remote Connectivity / Maintenance
Module 7: Retention Time Locking
Module 8: PSD / Backflush
Module 9: Sandwich Injections
Module 10: Oven Pillow
Run Time: 45 minutes
By viewing this tutorial you will learn about ...
Sample overlap to run more samples in less time
Self-tightening column nuts
Column smart keys
Sandwich injections
A host of other tips to improve your lab life!
The Presenters

Angie Smith-Henry
(Applications Chemist for GC and MS Supplies, Agilent)
Angie is is an applications chemist for GC and MS Supplies at Agilent in Wilmington, Delaware, USA. Previously, she was an applications chemist for the MSD Solutions and Applications group with a focus on developing analysers and applications for energy, chemical and environmental markets. Angie holds a PhD in Physical Chemistry from Lehigh University and BS in Chemistry from Juniata College.

Ian Eisele
(Applications Scientist, Agilent)
Ian Eisele is an Applications Scientist for the Software and Informatics Division at Agilent in Wilmington, Delaware, USA. Ian has worked in roles ranging from Field Service Engineer to Applications Chemist for the GC division. Ian holds an MS in Chemistry from Villanova University and a BS in Chemistry from Saint Joseph's University.