Standardized methods (or official international methods) exist for stable isotope analysis of food and beverage samples and are aimed at protecting product origin, authenticity and label claims. This note from Thermo Fisher Scientific provides a table of these official methods, alongside the analytical solutions.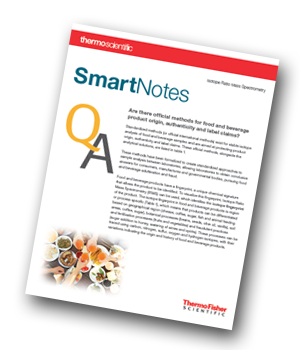 These methods have been formalized to create standardized approaches to sample analysis between laboratories, allowing laboratories to obtain conclusive answers for consumers, manufactures and governmental bodies, pursuing food and beverage adulteration and fraud.

Food and beverage products have a fingerprint, a unique chemical signature that allows the product to be identified. To visualize this fingerprint, Isotope Ratio Mass Spectrometry (IRMS) can be used, which identifies the isotope fingerprint of the product. The isotope fingerprint in food and beverage products is region or process specific, which means that products can be differentiated based on geographical region (cheese, coffee, sugar, fish and animal feeding areas, coffee, sugar), botanical processes (beans, seeds, olive oil, vanilla), soil and fertilization processes (fruits and vegetables) and fraudulent practices (sugar addition to honey, watering of wines and spirits). These processes can be traced using carbon, nitrogen, sulfur, oxygen and hydrogen isotopes, with their variations indicating the origin and history of food and beverage products.
Download the application note to view the official methods for isotope analysis using isotope ratio mass spectrometry.