Do you analyse dairy products? Want to know how AF4 combined with light scattering techniques can identify casein cross-linking? If so, why not read this application note from Wyatt Technology.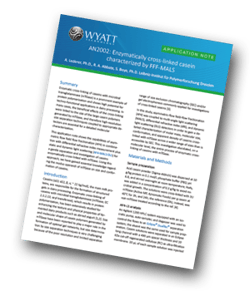 Enzymatic cross-linking of caseins with microbial transglutaminase (mTGase) is a prominent example of protein polymerization and shows high potential for techno-functional applications in dairy processing. In many cases, the beneficial effects of the cross-linking were linked to the size of the large casein polymers generated by mTGase, and therefore high-resolution size separation techniques coupled to appropriate detectors are essential for a detailed molecular characterization.
This application note outlines the capabilities of asymmetric flow field flow fractionation (AF4) in combination with differential refractive index measurement plus static and dynamic light scattering (AF4-MALS-DLS) for a gentle separation and investigation of caseins enzymatically cross-linked with mTGase. This approach has generated essential knowledge regarding the modus operandi of mTGase on size and conformation of caseins.
This study demonstrates that AF4 in combination with MALS, dRI, and online DLS detections is an efficient method to investigate the cross-linking process of caseins with mTGase. The determination of molar mass, molecular size, shape and scaling parameters is highly relevant for understanding the relationship between molecular properties of cross-linked caseins and their impact on the techno-functional properties of dairy products.
To download a full copy of the application note click on the button below.