IONICON Analytik, the Austrian-based leading manufacturer of real-time trace VOC analyzers,
introduces a new compact, ultra-sensitive and high-resolution PTR-TOF instrument.

The PTR-TOF 6000 X2 is the first instrument in IONICON's portfolio based on the new high resolution release of the "ioniTOF" platform and the company's PTR technology in combination with the new "X2" features, which comprise the latest generation of performance tools.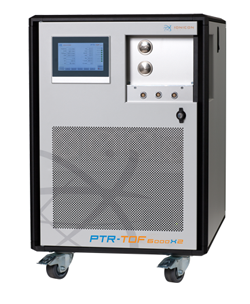 Features of the PTR-TOF 6000 X2
The system features an Ion Booster funnel that focuses the ions into the hexapole ion guide that results in nearly lossless transmission of an extremely focused ion beam into the TOF mass spectrometer. This increases the sensitivity dramatically and also improves the instrument's mass resolving power.

The ioniTOF Time-of-Flight Mass Spectrometer Platform
Since the market introduction of the PTR-TOF 1000 in 2014, PTR-TOF 1000 ultra and PTR-TOF 4000 in 2016, IONICON engineers have continuously improved and perfected the "ioniTOF"
platform. The flexible, customizable and reliable Time-of-Flight mass spectrometer is a major success for IONICON with already close to 50 units built, used in-house for IONICON's renowned
PTR-TOF series manufacturing and now also available to OEM or academic experimental research customers. IONICON's product design and in-house production allow for decreasing size, weight
and costs with increased overall performance. An emphasis is given to the improved user experience due to the focus on one fully integrated hard- and software solution.

IONICON CEO Lukas MÄRK commented that he was "proud to announce that all new IONICON PTR-TOF instruments are now exclusively based on the ioniTOF platform. This is a tremendous achievement of our development team and has enormous added value for our customers".

The clients benefit from an ecosystem that has been designed for reliability, compactness but also
affordability. All development efforts of the company are now streamlined and customers can rely
on upgradeability and continuous R&D efforts leading to add-ons, options, software and new
exciting instrument combinations based on this platform.

Various PTR-TOF systems with a built-in ioniTOF mass spectrometer have already been tested for its
robustness and reliability in the field such as on airborne campaigns aboard NASA's atmospheric
research aircrafts for measuring air pollution in the atmosphere (KORUS-AQ or DISCOVER-AQ).