Capture traces of tomorrow's drugs today and identify rapidly evolving novel psychoactive drug substances faster with this eBook from Thermo Fisher Scientific.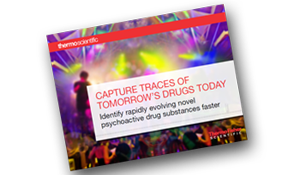 Find the truth in your novel psychoactive substance testing. Reliable, cost-effective solutions help law enforcement and drug testing labs reveal the truth hidden in the growing load of narcotic and forensic toxicology cases. In this eBook overview, we discuss:
growing list of NPS — a global problem
identifying and prohibiting NPS faster
reducing human and societal costs
determining drug circulation networks more rapidly
staying ahead.
Join Thermo Fisher Scientific's Forensics Community
Forensic solutions that help you reveal the truth hidden in virtually any sample.
Get updates on technical notes, webinars, customer appreciation events, and even employment opportunities.

Sign Up Now