This application note exploits the highly retentive, universal nature of UCT's polymeric Styre Screen® HLD sorbent for the analysis of acidic, neutral, and basic compounds in blood and urine.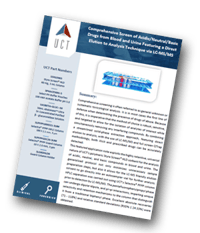 Comprehensive screening is often referred to as general unknown or systematic toxicological analysis. It is, in most cases, the first line of defence when determining the presence of drugs of abuse. Because of this, it is imperative that the method of choice is robust, sensitive, and targeted to allow for the isolation of analytes of interest while simultaneously removing any interfering compounds. By combining a streamlined solid-phase extraction approach, featuring direct elution to analysis, with the use of LC-MS/MS and full screen QTrap methodology, both illicit and prescribed drugs can be accurately detected.

The generalized protocol not only minimizes unnecessary sample preparation steps, but also it allows for the LC-MS friendly elution solvent to go directly into an autosampler vial for further analysis. HPLC separation was carried out using UCT's Selectra® PFPP column prior to detection by LC‐MS/MS. The pentafluorophenylpropyl phase can undergo dipole–dipole, and pi–pi interactions, imparting unique selectivity and retention mechanisms to the column that distinguish it from a traditional biphenyl phase. Excellent absolute recoveries (71 - 118%) and relative standard deviations (RSD% ≤ 24.33%) were obtained.
For sample pretreatment, the SPE procedure and LC-MS/MS parameters, please refer to the application note.
Conclusion
UCT's new universal screening method is designed for the efficient extraction of acidic/neutral/basic drugs from both blood and urine. The use of the highly-crosslinked, polymeric Styre Screen® HLD sorbent chemistry allows for increased analyte sensitivity, enhanced specificity for selected functional groups, low organic solvent consumption, ease of automation, and optimized chromatographic resolution. It features a direct elution to analysis approach where the LC-MS friendly elution solvent collects directly into an autosampler vial for further analysis. By eliminating several traditional steps within the featured protocol, this minimizes overall sample preparation time and cost and reduces the risk for error and subsequent sample rework.