Does your lab analyse medical use cannabis? Would you benefit from expert advice on the best strategies for pesticide, toxin or residual solvent analysis? Do you need help with your terpene and cannabinoid characterization? If the answer is 'yes' to any of these, sign up to attend this upcoming eSeminar...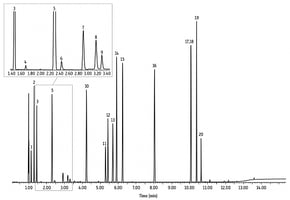 Separation Science, in collaboration with Restek, has developed a multi-speaker eSeminar covering testing methods and associated topics in medical use cannabis analysis. This two-session event will provide analytical scientists and laboratory managers/directors working in this field with access to leading techniques, best practice and robust methods from leading industry figures and vendors. Below you'll find details of the presentations included in this online learning event:





Pesticide Analysis in Cannabis: Understanding the Challenges and Potential Solutions
presented by Julie Kowalski (Trace Analytics)




Strategies for Potency Testing of Cannabis
presented by Justin Fischedick (Pure Analytics)





Analysis of Mycotoxins in Hemp-derived CBD Oils by LC-MS/MS
Justin Steimling (Restek)




Analytical Approaches to Terpene Analysis
Brett Taubman (Appalachian State University)




Characterization of Cannabinoids using GC and UV Spectroscopy
Allegra Leghissa (University of Texas - Arlington)




A Simple Approach to Analysing Residual Solvents in Cannabis Concentrates via HS-GC
Colton Myers (Restek)
For free registration simply click on the button below to ensure your place...
scientific partner