Bruker offers a range of software and hardware that addressses the need for enhanced workflow solutions for NMR spectroscopy research and analysis. These solutions benefit researchers in many disciplines of NMR, while providing productivity enhancements for pharmaceutical users.
New Software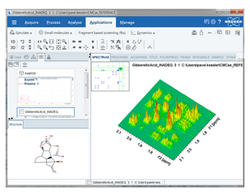 TopSpin 4® is the next generation of Bruker's NMR software for spectrometer control and data analysis, designed for the newly introduced AVANCE™ NEO platform. The combination of a new user interface and capabilities to support multiple receivers and other AVANCE NEO capabilities, will make TopSpin 4 a very powerful and intuitive software for NMR spectroscopists.
The bioTop™ module has been designed to simplify and accelerate the setup of biomolecular NMR experiments and performs most biomolecular tasks in full automation. Only minimal user interaction is required for most experiments. The process starts after inserting the sample and taking care of shimming, locking and tuning if necessary. From experiment selections to final processed spectra, including optimization of commonly used parameters, bioTop can be customized to accommodate much of the workflow in biomolecular NMR laboratories.
TopSolids™ module is an intuitive, workflow-based software for solid-state NMR. It is designed to give easy access to the delicate set up of probe hardware and complex solid-state NMR experiments, such as from structural biology on membrane proteins, to pharmaceutical comounds, to catalysis, battery research, polymer or material science work.
PotencyMR™ and NMR Fragment-based Screening (FBS) are both solutions for those working in the pharma and biotech industries.
For NMR detection, the company has introduced the new iProbe™ platform allowing not only for an increase in signal to noise, and faster and more accurate rf tuning, but also providing a more flexible design that allows easier customization of NMR probes for dedicated applications.
Lastly, the The InsightMR™ portfolio of applications is available for monitoring chemical and biological processes to increase understanding of reaction mechanisms, chemical processes as well as cell metabolism.