Shimadzu has introduced its IRSpirit series of Fourier Transform Infrared (FTIR) spectrophotometers, the IRSpirit-T and IRSpirit-L compact-sized models, designed to simplify analysis and provide outstanding expandability.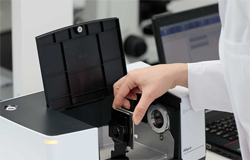 Primary Markets
Acquiring high-quality data, the IRSpirit series is primarily marketed to pharmaceutical, chemical, and food industries, and academic institutions.

More about the IRSpirit Series
The new systems provide the same sample compartment width as Shimadzu's standard model while being only one third of its size. They are reported to be the smallest (footprint) and lightest FTIR systems capable of using either Shimadzu's accessories or optional products from other manufacturers.

Key Features
Space-efficient and flexible
- due to very small footprint and large sample compartment for accessories
IRPilot program with 23 application-specific workflows
- allows easy and quick analysis even for unexperienced users
Large choice of accessories
- cover a wide range of applications
Watch the video
You can also watch the video by clicking here.
For more information visit www.shimadzu.eu