Peiqiang Yu from the Department of Animal and Poultry Science, College of Agricultural and Bioresources, University of Saskatchewan, Saskatoon, Canada spoke to Spectroscopy Solutions and answered questions on his feed processing research with mid-infrared molecular spectroscopy highlighting an application on protein in microwave irradiation.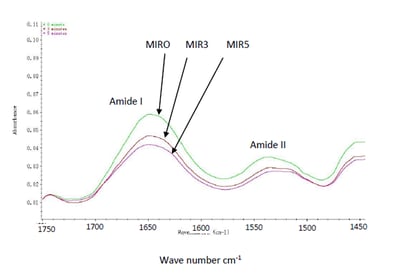 What was the purpose of your research?
Our study aimed to use a molecular spectroscopy technique with chemotrics to evaluate microwave irradiation (MIR)-induced changes in crude protein molecular structures in both hulless and hulled barley (Hordeum vulgare) grains. Typical spectra are shown in Figure 1 collected with the mid-infrared spectroscopy. Samples from hulled and hulless cultivars of barley, harvested in two consecutive years from four replicate plots, were evaluated. The samples were either kept as raw or irradiated in a microwave for 3 min (MIR3) or 5 min (MIR5).

What were the key results from your research?
Our results showed that the MIR decreased the spectral intensities of amide 1, amide II, α-helix and β-sheet, and increased their ratios. The changes in protein spectral intensities were correlated with the changes in protein subfractions and digestive kinetics in ruminant systems.

What does this actually mean?
This study showed that MIR for a short period (5 min) with a lower energy input can improve the nutritive value and utilization of protein in barely grains. Molecular spectral analyses can be a fast research tool to detect feed processing induced changes in protein internal structure change in hulless and hulled barley grain.