Many existing pharmaceutical and biopharmaceutical assays are time consuming, labor-intensive, involve hazardous chemicals, require extensive analyst training, and may yield significant measurement errors.
In 2011 the USP embarked on a monograph modernization initiative, aligned with the methods in other pharmacopeias, the International Conference on Harmonization (e.g., ICH Q3A and Q3B), and current FDA guidance. Ion chromatography (IC) plays a key role in drug monograph modernization because it offers a significant improvement to existing active pharmaceutical ingredient, impurity and counterion assays, with advantages in speed, reproducibility, accuracy, safety and cost-effectiveness.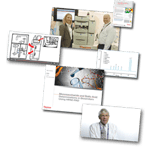 As a complementary educational resource, Separation Science, in collaboration with Thermo Fisher Scientific, has created an online learning portal providing content, advice and guidance for the transition to modernized pharmacopoeial methods using ion chromatography. The diverse content available on this free-access microsite includes such presentations as:
[VIDEO] Introduction to Ion Chromatography


This whiteboard video describes the basics of ion chromatography such as the choice of column, sample injection, generalized system setup, and detector choices. In addition, there is an introduction to the latest ion chromatography system available from Thermo Fisher Scientific.
[VIDEO] The Role of Ion Chromatography in the USP Monograph Modernization Initiative


In this educational presentation, Dr. Ravi Ravichandran discusses the role of ion chromatography in the USP's efforts to modernize its existing monographs.


[VIDEO] Ion Chromatography for Pharmaceutical Analysis


In this educational presentation, Dr. Jeff Rohrer gives an introduction to ion chromatography (IC), discusses what IC offers for pharmaceutical analysis, presents a review of IC applications, before instructing how to develop an IC method for pharmaceutical analysis.
In addition, the portal also includes information relating to:
Assays

Blogs

Posters

Brochures

Website Resources
The portal has been developed as an educational resource for all those interested in using ion chromatography methods for pharmaceutical and biopharmaceutical analyses. As such, the benefits of using the microsite include:
Strengthen your analysis of counterions, excipients and/or inactive

formulation components

Improve your understanding of impurities/degradants, antibiotics and

amino acids

Learn how cell culture media/fermentation broths, glycans and/or

monosaccharides and sialic acids are key to your analytical success
Accessing the site is simple, click on the button below and complete the registration form. Enjoy the learning portal.