While Asia's pharmaceutical businesses cope with the changes in operating environments, the scientific community, involving local and international scientists, chemists and laboratory professionals, needs to continue to strengthen and grow through knowledge exchange and learning sessions. Mr. Rich Youn, Senior Commercial Director for Commercial Operations in Asia Pacific and Japan (APJ) for Chromatography and Mass Spectrometry division (CMD), Thermo Fisher Scientific explains the need for the scientific community to support each other for tomorrow's Pharma 4.0 environment.
Asia, the hotbed of technological developments, is riding the wave of global mega trends, which includes an aging population, digitalization and the adoption of emerging technologies such as artificial intelligence (AI) and the Internet of Things (IoT).

For instance, in the pharmaceutical industry, we see that as the population ages, governments focus on making healthcare accessible, leading to a decrease in the prices of drugs and causing pressure on the costs of drug production.

At the same time, the pharmaceutical industry is experiencing a transformation towards Pharma 4.0 which leverages technologies for connectivity, digitalisation and artificial intelligence for the development and manufacturing of pharmaceutical and biotechnology products.

Industry research firm, Allied Market Research, estimated that the global AI for drug discovery and development market could reach US$4.81 billion by 2027, registering a CAGR of 31.6% from 2020 to 2027 with the Asia Pacific region to grow at the highest CAGR in the same period.

Would the global pandemic in 2020 impact the adoption of new technologies or the pharmaceutical industry's transformation to Pharma 4.0?
No, in fact, according to the market research firm, it is due to the pandemic that AI for the drug discovery and development market grew significantly, attributable to the rise in the number of partnerships between AI providers and pharma and biotech companies to develop drugs for treatment of patients affected from coronavirus, and to help scientists understand the protein structure of the virus. Importantly, too, AI plays an integral role in drug design and accelerating vaccine technologies.

The world is expecting unprecedented progress from the scientific community as innovations in technology can power discovery, improve productivity and enable breakthroughs across a variety of applications.

Against such high expectations from the scientific community, Thermo Fisher Scientific is focusing efforts to build a strong and more knowledgeable community of scientists, chemists and laboratory professionals in Asia by facilitating knowledge sharing sessions.

In September 2020, the company collaborated with Separation Science on a virtual learning series and live video forums that brought participants from more than 12 locations across Asia to meet and discuss pertinent issues such as regulatory and quality challenges, emerging technologies and transformation to the laboratory of the future. 'Pharma 4.0: Transforming Pharmaceutical Manufacturing' is now available to view free on-demand.


This event followed on the back of Thermo Fisher Scientific's virtual LC-MS conference in June 2020 to empower learning for Asia's lab professionals embarking on intelligence-driven mass spectrometry.

These laboratory professionals, who include scientists, researchers and chemists, need to move science forward with confidence, scale research and translate results faster and simpler than before. They want a new generation of intelligence-driven instruments and software that will enable them to acquire data more quickly and with greater accuracy than ever before.

We understand their needs and desires to push the frontiers of science. Through knowledge sharing, we can work one with the scientific community to progress for the greater good of society.
Author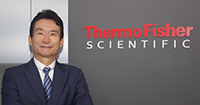 Rich Youn (Senior Commercial Director for Commercial Operations in Asia Pacific and Japan (APJ) for Chromatography and Mass Spectrometry division (CMD) at Thermo Fisher Scientific)