Charge variant analysis is a demanding application for applied liquid chromatography systems due to the use of highly corrosive buffer salts in combination with very shallow gradients for optimal separation. Separation Science, in collaboration with Agilent, offers a PDF compendium covering high-performance LC methods that ensure high robustness in even the most elaborate biomolecule applications, such as critical quality attributes (CQAs).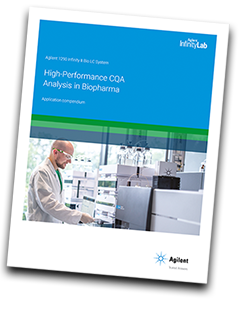 Part of this compendium is an application note describing the evaluation of different salt gradients performed on the Agilent 1290 Infinity II Bio LC System and analyzed for resolution as well as reproducibility. The 1290 Infinity II Bio LC including High-Speed Pump, with its completely iron-free flow path, is optimally suited for the conditions used in biochromatography— avoiding potentially corrosive damage to the system. Excellent reproducibility even for highly challenging shallow gradients was determined, confirming the 1290 Infinity II Bio LC as the next generation of Agilent high-end liquid chromatography systems for high confidence in generated data.
Register for the 'High-Performance CQA Analysis in Biopharma' PDF applications compendium to learn more about this particular application.
Other methods featured include:
High-resolution SEC with the Agilent 1290 Infinity II Bio LC System
Analysis of antibody drug conjugates using hydrophobic interaction chromatography with the Agilent 1290 Infinity II Bio LC System
The Agilent 1290 Infinity II Bio LC System as the new platform for UV and MS-based primary structure and PTMs analysis of mAbs
Peptide-mapping analysis shows excellent performance and high method compatibility compared to the Agilent 1290 Infinity II LC System