PREP 2017 takes place 16-19 July this year in Philadelphia - find out more about what's going on and why you should think about attending...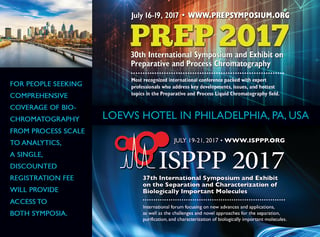 The PREP Symposium is where scientists, engineers, and suppliers of media, equipment, and technology from around the world come to focus on the most recent cutting-edge areas of Preparative and Process Chromatography; receive education and training in chromatographic process development and design; and see how the latest products and technologies are driving the pace of innovation in scientific research and in advanced chemical, pharmaceutical, and biotechnological manufacturing.

Join us for another dynamic and innovative program where experts from around the world will address key developments, issues, and hottest topics in the Preparative and Process Chromatography field.

The program will be packed with presentations on such topics as:
biochromatography
downstream processing
QbD
monoclonal antibodies
plasmids
enzymes
vaccines
VLPs, and other biopharmaceuticals
chiral molecules
SFC
peptides, proteins, oligonucleotides
APIs
natural products
multi-column and continuous SMB processes
column technology and equipment
monoliths, new and improved stationary phases
membrane chromatography, and more!
Over 100 abstracts have been submitted to date and the review process is now underway.

This diversity of topics from leading academic and industrial speakers already ensures an outstanding scientific program.

Together with a vibrant training workshop program and a full list of exhibitors, PREP2017 will offer comprehensive and in-depth coverage of preparative and process chromatography.

We encourage you to contribute to the Poster Sessions where high quality papers will be presented in an environment to encourage deeper discussions.

The preliminary program will be posted online in April. The sooner the poster is submitted, the sooner it can be accepted and published in the on-line version of the scientific program.