This study describes the LCMS bioanalysis of antibody drugs using the Fab-selective proteolysis "nSMOL Method" offering an improvement of reaction conditions for automated analyses.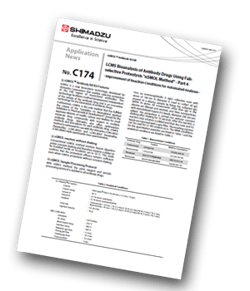 The field of therapeutics monoclonal antibodies (mAbs) has grown over the years and provided treatment options for infectious diseases, autoimmune diseases and cancer. Therapeutic mAbs treatment are very specific and delicate, requiring very detailed pharmacokinetic profiles such as drug efficacy and toxicity. Current quantification methods using ELISA can be interfered by cross-reactivity or inhibitory molecules, causing reduced accuracy and reproducibility. Alternatively, mass spectrometry-based techniques may offer better selectivity for quantitation assays. However, current conventional sample preparation often results in discrepancies when analyzing biological matrices due to their associated matrix effects.

To resolve these complications, Shimadzu developed a breakthrough LC-MS pretreatment technology, nSMOL (nano-surface and molecular orientation limited proteolysis). The nSMOL technology allows Fab-selective limited proteolysis using nanotechnology, minimizing sample complexity and matrix-induced complications. Shimadzu's continuous effort to optimize this technology allows it to be conducted with an easy-to-use protocol and produce highly repeatable results.
In this application news, we have demonstrated that nSMOL proteolysis can be conducted under static conditions and still fulfil the guideline criteria. Hence, without the need of a dedicated shaking instrument, the nSMOL protocol can be integrated into automated assays and increase efficiency in your laboratory.