ISPPP (International Symposium on the Separation of Proteins, Peptides and Polynucleotides) takes place 19-21 July 2017 in Philadelphia - find out more about what's going on and why you should think about attending...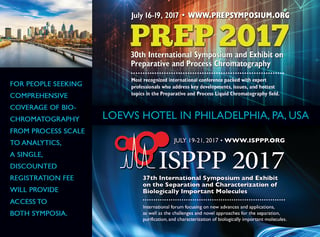 Mark your calendar to attend the premier meeting on state-of-the-art separation, analysis, and characterization methods, much of which is based on HPLC/UHPLC/Mass Spectrometry.
Scientists from around the world will deliver some of the most cutting-edge presentations that will address key developments and applications, productivity and financial challenges, and novel approaches related to biological molecule separations and analysis focusing on the latest innovations in technologies that are critical in clinical and biopharmaceutical research, and are requirements in the manufacturing and quality control of new biotherapies and diagnostics.
It's an exciting time for the separation science of biological molecules. The field continues to grow and adapt, enjoy better materials, instruments and methods, and a seeming never-ending list of interesting molecules to work on.
The program will be packed with presentations on such topics as:
Proteomics and Protein Measurements

High Resolution Separations Materials

Therapeutic Biomolecules

Novel Separations

Monoclonal Antibodies

Biomolecule Interactions

Structure Analysis

Diagnostics and Therapeutics

Interactions and Conformation

Nucleic Acids

Glycans and Complex Carbohydrates
Thematic Session
Purification Technology Advances
Downstream Processing Techniques
Proteomics/Glycomics/Metabolomics
Characterization of Biopharmaceuticals including Biosimilars
HPLC/UHPLC/Mass Spectrometry
Intact Protein Separations
Protein Structure/Function
Column Technologies
Affinity/Selective Separations


Seeking comprehensive coverage of bio-chromatography from process scale to analytics?
ISPPP will be held to overlap with PREP2017, the most recognized international conference in the preparative and process liquid chromatography field.
There will be a one-day overlap in the programs on Wednesday where all PREP and ISPPP participants may attend any technical session in either meeting.