The therapeutic potential of biologic modalities has increased, driving an inevitable move toward exploring more complex biotherapeutic molecule classes. As biotherapeutics become more complex, there is still a demand for superior quantification while maintaining sensitivity, accuracy, reproducibility, throughput, and robustness, regardless of the therapeutic class.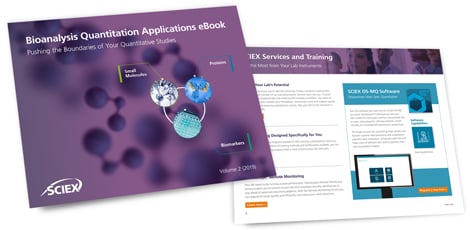 Every Decision You Make Requires a Number
To help you push the boundaries of your bioanalysis quantitation efforts, we have put together a collection of technical notes and webinars for you in our Bioanalysis Quantitation Applications eBook.
We understand that, regardless of your therapeutic class or how complex biotherapeutics become, you still need superior quantification.
This ebook provides you with new ways to transform your workflows with high-performance hardware, software, sample prep and lab-tested analysis methods for:
Small Molecules
Proteins
Biomarkers
Gene Therapies