CAMAG has produced an application note describing the HPTLC methodology to identify sibutramine in herbal weight loss products.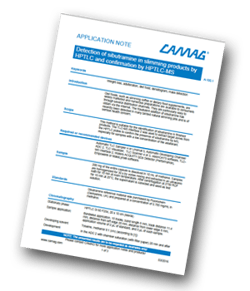 The adulteration of herbal supplements is of growing importance, especially when they contain undeclared compounds like sibutramine in weight loss products, or PDE5 inhibitors [1,2] in lifestyle products.

The fraudulent addition of sibutramine has been detected in many tainted natural slimming pills and is of serious health concern. Sibutramine was withdrawn from US and European markets in 2010. During two surveys 52 weight loss supplements obtained via the Internet were screened. Half of those were adulterated with sibutramine at amounts reaching up to 35 mg per capsule [1].

This application note describes the HPTLC methodology to identify sibutramine in herbal weight loss products. HPTLC allows multiple samples to be analysed in parallel. A rapid confirmation is possible by comparison of UV and mass spectra of the likely adulterated samples with the sibutramine standard. With the TLC-MS Interface 2, target zones are directly eluted from the HPTLC plate and allow confirmation within less than a minute per eluted zone.

[1] Mathon C., Ankli A., Reich E., Bieri S., Christen P.: Screening and determination of sibutramine in adulterated herbal slimming supplements by HPTLC-UV densitometry. Food Addit. Contam. Part A Chem. Anal. Control Expo. Risk Assess., 2014, 15-20.

[2] Do T., Theocharis G., Reich E.: Simultaneous Detection of Three Phosphodiesterase Type 5 Inhibitors and Eight of Their Analogs in Lifestyle Products and Screening for Adulterants by High-Performance Thin-Layer Chromatography. J. AOAC, 2015, 98(5):1226-33.