---
Shimadzu has produced a paper that evaluates the application of a novel on-line supercritical fluid extraction/chromatography system for cleaning validation in pharmaceutical manufacturing.The benefits of online SFE/SFC are shown to be data reliability and the streamlining of laboratory processes.
Introduction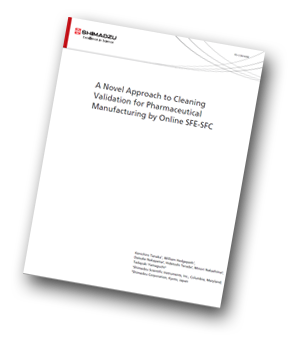 Cleaning validation is necessary to establish the quality and safety of pharmaceutical drug products. In cleaning validation protocols, direct sampling is performed with swabs, which are sticks with textiles at one end. The sample on the swab after swabbing the surface of equipment is analysed with a TOC analyser and HPLC.
The use of HPLC has increased due to the growing need for the individual analysis of products. However, manual sample prep processes may affect the quality of results. Thus, the application of a novel on-line supercritical fluid etraction/chromatography system for the cleaning validation was evaluated.
Experimental
A commercially available detergent containing alkylbenzene sulfonates was diluted with methanol and used as a standard sample.
Nexera UC system (Shimadzu corporation, Japan) was used for both the screening of the method using
supercritical fluid chromatography (SFC) and the supercritical fluid sample extraction (SFE) followed by
SFC directly (SFE/SFC).
Conclusions
The evaluation results showed that the on-line SFE/SFC can provide reliable data for the cleaning validation for pharmaceutical manufacturing. The benefit of on-line SFE/SFC analysis is not only data reliability but also the convenience and safety gained by eliminating the manual extraction process. It may streamline laboratory processes and improve productivity and safety of pharmaceutical manufacturing facilities.
---