In recent years, quantitative NMR (qNMR) has become widely accepted as a very efficient and precise method for the quantification of organic compounds and is increasingly used in the pharmaceutical and chemical industry. Its main advantage, when compared to most other analytical techniques, is that the signal integrals are independent of the chemical structure of the compound. This opens the possibility of quantitatively comparing different compounds and thus getting quantitative values that are traceable to internationally recognized primary standards such as those from NIST or NMIJ.
Merck qNMR standard solutions offer increased convenience to users by providing the qNMR standards already dissolved in a deuterated solvent at a certain concentration. They can be used for internal as well as for external qNMR experiments. In the case of external calibration (e.g., PULCON), no exact weighing will be required.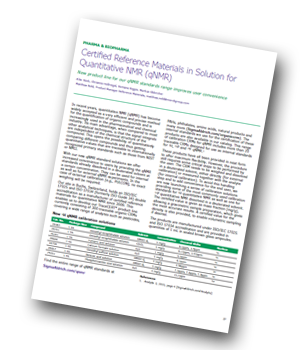 The manufacturing site holds an ISO/IEC 17025 and ISO 17034 (formerly ISO Guide 34) double accreditation as a manufacturer of certified reference materials for quantitative NMR since 2009. This enables us to develop our TraceCERT® product line currently consisting of 300 traceable organic CRMs covering a wide range of analytes such as pesticides, PAHs, phthalates, amino acids, natural products and many more (SigmaAldrich.com/organiccrm). The internal standards we use for the certification of these products are also available in our catalog. This range of calibration CRMs for qNMR includes more than 20 traceable CRMs designed for use as internal standards for 1H, 31P and 19F qNMR.
These products have all been provided in neat form to offer maximum flexibility. However, the procedure still requires some critical steps to be performed by the user. The CRM needs to be weighed and dissolved in a deuterated solvent, either directly (for external calibration) or measured together with the analyte (for internal calibration). To avoid this handling step and to add convenience for the end user, we are now launching a series of calibration solutions providing some of the most commonly used calibration standards for 1H quantitative NMR as well as one for 31P quantitative NMR dissolved in a deuterated solvent. The certified value is given as mass fraction (mg/g), allowing a gravimetric sample preparation, which gives the most accurate results. A certified value for the density is also provided, to enable volumetric sampling if desired.
The products are manufactured under ISO/IEC 17025 and ISO 17034 accreditation and are provided in quantities of 1 mL in sealed brown glass ampoules.