Metrohm has produced an Application Bulletin discussing automatic conductometry in water with low electrical conductivity in accordance with USP<645>.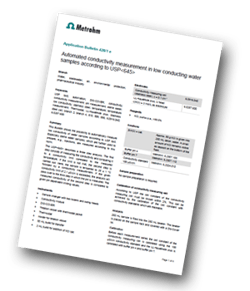 Particularly strict regulations apply to the measurement of the conductivity of water for pharmaceutical use in accordance with USP<645>, e.g., for water for injection. In addition to the highest level of precision, the test must fulfill all of the requirements of U.S. FDA Regulation 21 CFR Part 11. This Bulletin from Metrohm details the automatic 3-stage measurement of low conductivity samples according to USP<645>.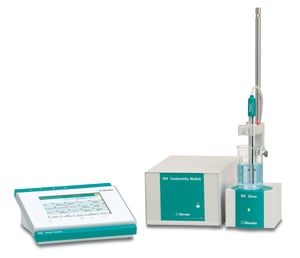 The USP<645> describes a three step analysis. The first step consists of measuring the conductivity and comparing it to a conductivity limit correlated to the measured temperature. If the limit is not met, the second step is carried out. Here, the sample is tempered to 25 ± 1 °C followed by a conductivity measurement. If the given conductivity limit of 2.1 μS/cm is exceeded, the analysis will pass over to the third step in which the pH is measured. The measured conductivity of the second step is compared to given pH dependent limiting values.
This Bulletin shows the possibility to automatically measure low conductivity of water samples according to USP<645>. Especially sterile water samples, which are further used to prepare injections, for example, are measured according to this norm.