Available from Agar Scientific's latest catalogue is a section detailing accessories for scanning electron microscopes (SEM) and transmission electron microscopes (TEM).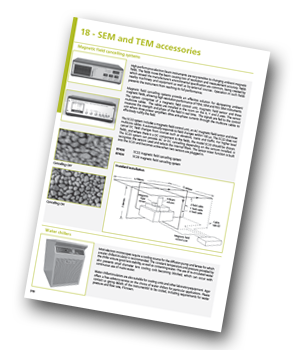 The catalogue includes details of magnetic field cancelling systems that provide an effective solution for dampening ambient magnetic fields, allowing high resolution performance of TEM, SEM and FEG SEM instruments. The system comprises of a magnetic field control unit, magnetic field sensor and three multicore cables.

The SC22 system includes a magnetic field control unit, an AC magnetic field sensor and three multicore cables. It automatically responds to field changes within 100 μs. The SC22 does not cancel DC field changes from sources such as elevators, trains and traffic. For higher level fields, and where there is a DC component to the fields, the model SC20 should be chosen.
Also included are details of water chillers that provide a cooling source for the diffusion pump and lenses of electron microscopes. Agar offers a free advisory service on the choice of water chillers for particular applications.
Detectors
A range of SEM accessories is available, which can be fitted to most microscopes with a free port on the specimen chamber to accept either the detector hardware or vacuum feedthrough. For detectors mounted on a movable arm, the port should have an unobstructed path to the optical axis at a suitable height.
Details are also provided for the following products:
Probe current meter

Specimen current-EBIC amplifier

Infrared chamberscopes

Solid state backscattered electron detector

Centaurus detector system
Bench-top Microscopes
A range of stubs, tweezers, small tools and sample preparation kits suitable for use in combination with the following bench-top microscopes:
• Hitachi TM-1000 and TM3000
• JEOL NeoScopeTM
• FEI PhenomTM
In addition the company offers calibration standards suitable for use with bench-top SEMs.
To download the full catalogue click here.