Spectrolight has introduced a new product series of FWS (flexible wavelength selector) fluorimeters for use in a wide range of applications.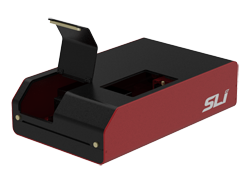 Features
The FWS Fluorimeter integrates the company's tungsten halogen lamp, Mighty Light together with its award winning Flexible Wavelength Selector to provide high power, tunable monochromatic beam for excitation. The detection part uses a high signal-to-noise CCD for fast and sensitive detection of fluorescence.

Currently, three models are offered based on the sensitivity of different detector platforms to cover many photonic applications. The key product advantages are high excitation power using Spectrolight's TwinFilm™ Technology, low dark noise and stray light using high-speed CCD and fast acquisition of spectrum using Spectrolight's new software interface.
Company information
Spectrolight, based in Irvine, California, USA produces optical and optomechanical components for manipulating, generating and detecting light, primarily aimed at applications in microscopy, machine vision, hyperspectral imaging and general research. Founded by a group of scientists and engineers who had often experienced frustration with the limitations of commercially available photonic devices and components, this team set out to deliver cost-effective photonic tools that offer better functionality, greater ease of use, and superior reliability and lifetime - with the simple philosophy of "Light Done Right." For more information, visit www.spectrolightinc.com, or e-mail info@spectrolightinc.com.