Thermo Fisher Scientific has produced a data sheet introducing its Maps software that can automate the acquisition of large overviews at high resolution and correlate data across optical, SEM, FIB-SEM and TEM instruments for high-throughput data collection.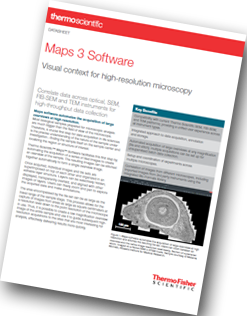 Overview
Most biological samples prepared for microscopic analysis are much bigger than the field of view of the microscope. Therefore, a crucial first step for data acquisition in life sciences is the precise understanding of the nature of the sample under investigation—finding the sample itself on the sample carrier and localizing the region or structure of interest.
Thermo Scientific™ Maps™ Software facilitates this first step by automating the acquisition of a series of tiled images to create an overview of the sample. The resulting images can be stitched together automatically to form a single overview image.
Once acquired, individual images and tile sets are superimposed on top of each other and organized in an editable layer structure. Layers can be selectively hidden, displayed, transparently overlaid, and aligned with other images or layers. Users can freely zoom and pan to explore the acquired data and make annotations.
Key Benefits
Compatibility with current Thermo Scientific SEM, FIB-SEM, and TEM platforms; providing a unified user experience across all instrument types.
Integrated approach to data acquisition, annotation and storage.
Automated acquisition of large overviews at any magnification (tile and stitch); multiple acquisitions can be set up for unsupervised batch data collection.
Setup and coordination of experiments across multiple microscopes.
Correlation of images from different microscopes, including imported images from 3rd party instruments using the integrated Bio-Formats library.
Find out more how

Maps software can automate the acquisition of large

overviews at high resolution,

enable correlative workflows that span

multiple instruments and

guide the acquisition of 3D volumes for

serial block face imaging and array tomography by downloading the data sheet below.