Hitachi has introduced a scanning electron microscope – the FlexSEM 1000 – designed to change your view of electron microscopy.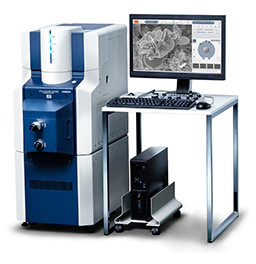 The FlexSEM 1000 VP-SEM combines innovative technological features with an intuitive interface, to deliver adaptability and flexibility in a powerful, automated, lab-friendly package. Cutting-edge technology and circuitry provides unrivalled imaging performance, even in variable-pressure environments, a feature previously only available in a full-sized SEM. This SEM runs on clean energy for an economical analytical tool, without compromising performance.
Overview
The SEM features newly designed electron optical and signal detection systems reportedly providing unparalleled imaging and analytical performance in a lab-friendly configuration. Keeping efficiency in mind, the FlexSEM features an adaptable, separable, and compact design, such that it can be installed in limited office, laboratory, or even mobile spaces. Engineered to appeal to both the novice and expert microscopist for a wide range of applications, including biological and advanced material specimens, this microscope will certainly expand your analyses as well as your expectations.
Features include:-
a newly designed electrical optical system with a reliability-proven high-sensitivity detector, achieving imaging at 4 nm

a low aberration objective lens and a unique gun bias system that allows delivery of high emission current

compact slim body

unparalleled image quality

intuitive operation

new camera navigation - 'SEM MAP'