In this application example, Tescan provides an in-depth geochronological study of zircon grains from North-Western Mongolia. For high resolution imaging MIRA3 field-emission SEM equipped with TESCAN Color CL detector was used.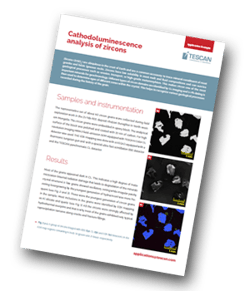 Introduction
Zircons (ZrSiO4) are ubiquitous in the crust of the Earth and are a common accessory to trace mineral constituent of most granite and felsic igneous rocks. Zircons have low solubility in most melt and fluid compositions and can survive geological processes such as erosion, transport, or high-grade metamorphism. This makes zircon one of the most important minerals for geochronology. Different types of zircon domains are identified by CL imaging and U-Pb dating is then used to determine ages of different zones within the crystal. This helps to recognize various geological processes recorded during the history of the grain.
Samples and Instrumentation
The representative set of about 50 zircon grains were collected during field exploration work in the Zr/Nb-REE deposit Khalzan Bureghtei in North-western Mongolia. The zircon grains were embedded in epoxy block. The analytical surface of the block was polished and coated with 10 nm of carbon. For high resolution imaging MIRA3 field-emission SEM equipped with TESCAN Color CL detector was used. THE EDX mapping was done with a VEGA3 equipped with a thermionic tungsten gun and with a special ultra-fast scintillation BSE detector.
Results
Most of the grains appeared dark in CL. This indicates a high degree of metamictization (internal radiation damage that leads to degradation of the minerals crystal structure). A few grains showed oscillatory zoning while irregular patchy zoning (overgrowing by the youngest generation of hydrozircon) was more frequent. Those were the youngest generation of zircon grains in the sample. Most inclusions in the grains were identified by EDX mapping as Al silicate and quartz. All the zircons were strongly affected by hydrothermal overprint and that is why most of the grains exhibited very typical reprecipitation textures along cracks and fracture fillings.