Keysight Technologies' range of instrumentation offers a variety of flexible scientific-grade solutions to meet unique nanomeasurement requirements. Further details are highlighted in this comprehensive brochure.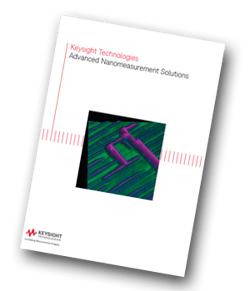 Whether your application requires a high-resolution system that offers modularity and cross-platform compatibility for atomic force microscopy (AFM) and scanning probe microscopy (SPM), a nanoindenter or universal testing machine (UTM) optimized for high-precision nanomechanical characterization, or a compact, low-voltage system that delivers exceptional field emission scanning electron microscopy (FE-SEM) performance, Keysight Technologies, Inc. can provide the right state-of-the-art instrumentation for your work with its R&D committed to the pursuit of advancements that will make atomic force microscopy easier to use. The company further provides application expertise for life science, materials science, polymer science, electrochemistry, and cross-disciplinary nanoscale research.
Key features of this brochure include:-
Atomic Force Microscope (AFM) solutions
Extend Your AFM capabilities with Keysight's options for materials & life sciences
- SMM Mode
- SECM Mode
- MAC III/Auxiliary Signal Access
- PicoTREC
AFM options & accessories
Nanomechanical test equipment
Nanomechanical options & accessories
Keysight FE-SEM for low-voltage, high-performance imaging
FE-SEM options & accessories
Applications
- Materials Science
- Life Science
- Polymer Science
- Electrochemistry
- Cross-Disciplinary Nanoscale Research
Download this brochure to see the full portfolio of Keysight Technologies' nanomeasurement instruments.