The Australian Microscopy and Microanalysis Society invite you to the 19th International Microscopy Congress (IMC19) to be held from 9-14 September 2018 at the stunning new International Convention Centre (ICC Sydney) right in the heart of Sydney.
Dates: 9-14 September, 2018
Venue: International Convention Centre, Sydney, Australia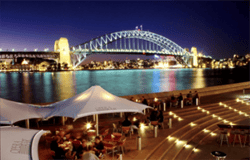 The congress theme is 'Microscopy: Bridging the Sciences' and the event will feature an outstanding scientific programme led by world-renowned plenary speakers, that will not only be a platform to showcase exciting new developments in microscopy, but will also demonstrate the transformational role of microscopy in underpinning a range of physical and life sciences.
Scientific programme at a glance
The programme will feature four main streams:
Physical Sciences

Life Sciences

Instrumentation and Techniques

Frontier Issues
Within these streams, topics covered will include:-
Physical Sciences
Nanoscale, Nanostructured and Porous Materials

Carbon-Based Materials and 2D Structures

Thin Films, Coatings and Surfaces

Metals and Alloys

Semiconductors and Materials for Communication

Instrumentation and Techniques
Instrumentation

Computational Methods for Data Acquisition, Analysis and Visualization

Methods and Workflows for Correlative Microscopy

In-situ, Environmental and Time-Resolved Microscopies
STEM and TEM Imaging

Frontier Issues
Outreach

Data Management (Storage, Processing and Sharing)

Facility Management

Life Sciences
Structure and Function of Cells & Organelles

Multiplex Live Imaging of Cells, Tissues & Organisms

3-D Structures of Macromolecules & Supramolecular Assemblies

Atomic Force Microscopy in Molecular and Cell Biology

Cellular Transport & Dynamics
A large exhibition dedicated to microscopy, imaging techniques and analysis will also be a key feature of the congress. There will also be a varied social programme enabling visitors to sample the fabulous food, wine and hospitality that Australia is famous for.

For further information and programme updates visit the website.