In a recent interview, Separation Science took time to talk with Adam Currie, Laboratory Manager at Siltech PMR in Melbourne, Australia, to understand how plasma-based techniques such as ICP-OES and MP-AES, and the Agilent OneNeb Series 2 Nebulizer, are being used and how this is providing benefits for the company's precious metals applications.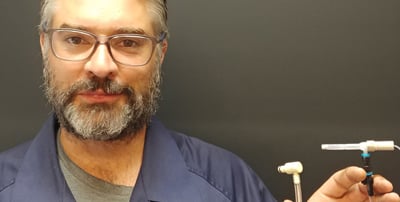 Siltech PMR Pty Ltd specializes in the treatment and disposal of film processing waste. It is one of the only fully licensed facilities in Australia with the ability to treat these kinds of wastes and products. Siltech holds EPA licenses for the treatment of chemicals and the production of silver, gold and platinum group metals and uses an Environmental Management System based on ISO14001.
Explaining the involvement of plasma-based techniques in his lab's work Adam describes how his biggest application for ICP-OES is determining the purity of precious metal samples from clients.
"Starting with 0.5-1.0 g sample of Au, Pt or Pd, we digest this in 10-20% Aqua Regia and dilute to a final volume of 100 mL. We analyse this digest looking for 30 elements, and then determine purity by deducting the concentration of the found elements from an assumed 100%. This allows us to determine the purity of metal - this is a common technique for precious metals and allows us to distinguish lower purity from 99.999% purity for example.", Adam explains.
Another type of analysis is termed 'boil out' solutions. This is the end of the bullion fire assay process in which a silver prill containing Pt and Pd is dissolved in HNO3 and analysed for its Pt/ Pd content. For this, Adam's team primarily use an Agilent MP-AES - this is equipped with an Agilent OneNeb Series 2 nebulizer.
In the interview, Adam explains how the switch from a glass concentric nebulizer to the Agilent OneNeb nebulizer has brought with it significant benefits for his laboratory and the precious metals analysis they perform, "One major issue we noticed with the glass concentric nebulizer was that when blockage occurred it would easily break if any attempt to unblock it was made. We no longer have this challenge using the OneNeb."
To read the full interview, and learn more about the about the advantages of the Agilent OneNeb Series 2 nebulizer for plasma-based techniques such as ICP-OES and MP-AES click on the button below.