Selected ion flow tube mass spectrometry (SIFT-MS) can provide a significant advance in trace gas and headspace analysis. Direct, ultra-soft chemical ionization of volatile organic compounds (VOCs) and inorganic gases in air – coupled with mass spectrometric detection – enables continuous or high-throughput monitoring for both routine and chromatographically challenging compounds (e.g. ammonia, formaldehyde, hydrogen sulfide, and sulfur dioxide).
Separation Science, in collaboration with Syft Technologies, offers a webinar covering SIFT-MS.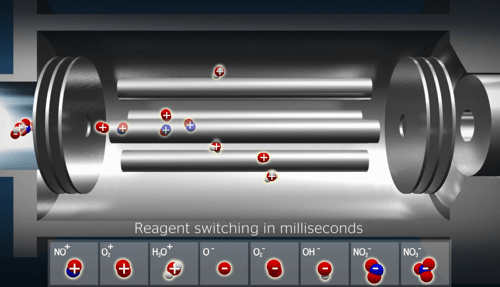 Direct, broad-spectrum analysis using SIFT-MS provides new opportunities across an extremely wide range of applications. In this webinar, example applications will include real-time ambient air monitoring for VOCs and odorous compounds, formaldehyde analysis to trace levels in air and headspace, and very high-throughput screening of polymers and packaging.

What will you learn if you attend?
The fundamentals of the selected ion flow tube mass spectrometry (SIFT-MS) analytical technique.
How SIFT-MS delivers immediate analytical results to ppt concentrations with very high selectivity through application of multiple rapidly switchable positive and negative reagent ions coupled with mass spectrometric detection.
How SIFT-MS compares with traditional gas analysis methods, including GC-MS and HPLC.

This webinar will show how its application can deliver competitive advantage in the contract laboratory because of high sample throughput and its ability to analyze chromatographically challenging species. It will also demonstrate how direct gas analysis opens new research and on-line monitoring opportunities.
Who is this webinar aimed at?
Analytical chemists and process engineers in the environmental, food, pharma, petrochemical, and polymer industries
Researchers / R&D Managers
Laboratory Managers / Directors / Supervisors
QA/QC managers and scientists