Plasma Spectrochemistry for Trace Element, Stable Isotope, Elemental Imaging and Speciation Analyses.
The 2020 Winter Conference on Plasma Spectrochemistry, 21st in a series of biennial meetings, features developments in plasma spectrochemical analysis by inductively coupled plasma (ICP), dc plasma (DCP), microwave plasma (MIP), glow discharge (GDL, HCL), and laser sources (LA, LIBS).
The meeting will be held Monday, January 13 through Saturday, January 18, 2020, in Tucson, Arizona at the El Conquistador Tucson Resort.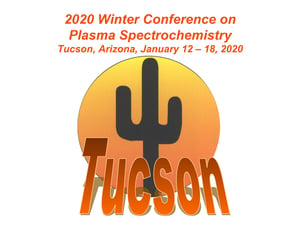 Professional development short courses at introductory and advanced levels and manufacturers' seminars will be offered Friday through Monday, January 10 - 13.

Spectroscopic instrumentation and accessories will be shown during a three-day exhibition from January 14 to 16.

Workshops on New Plasma Instrumentation, Clinical ICP-MS, Isotope Analysis, Elemental Imaging and Mass Cytometry, and Elemental Speciation methodology will be presented Tuesday through Friday afternoons.


The continued growth in popularity of plasma sources for atomization and excitation in atomic spectroscopy and ionization in mass spectrometry and the need to discuss recent developments of these discharges in spectrochemical analysis stimulated the organization of this meeting.

The Conference will bring together international scientists experienced in applications, instrumentation, and theory in an informal setting to examine recent progress in the field.

Approximately 500 participants from 30 countries are expected to attend.

Over 300 papers describing applications, fundamentals, and instrumental developments with plasma sources will be presented in lecture and poster sessions by more than 200 authors.

Symposia are organized and chaired by recognized experts and will include the following topics:
Sample introduction and transport phenomena; Micro Nebulization and flow processing spectrochemical analysis;
Nanomaterial analysis and characterization;
Elemental speciation, metallomics and sample preparation for speciation;
Plasma instrumentation, including advanced detectors, chemometrics, expert systems, on-line analysis, microplasmas, software, and remote-system automation;
Sample preparation, treatment and automation;
Excitation mechanisms, plasma phenomena and modeling;
Spectroscopic standards and reference materials, and high- purity materials;
Plasma source mass spectrometry;
Glow discharge atomic and mass spectrometry;
Stable isotope analyses;
Laser-assisted plasma spectrometry;
Advanced materials bulk and surface characterization;
Elemental imaging and mass cytometry;
Novel plasma spectrochemical applications.
Six plenary and 34 invited lectures will highlight advances in these areas. Four afternoon poster sessions will feature applications, automation, and new instrumentation.
Six Heritage Lectures will be presented by distinguished scientists and investigators, who have contributed significantly to the development of plasma spectrochemistry and will address critical development areas in sample introduction, instrumentation, elemental speciation, plasma source mass spectrometry, and novel software and hardware.
Awards for outstanding young investigators and senior researchers also will be presented.
Plenary, invited, and submitted papers will be published in September 2020 after peer review as the official Conference proceedings.