Merck has introduced our new proficiency testing data entry portal. The new portal, released 2018, can be accessed at Merck-pt.com. The portal has been streamlined to offer speed, ease of use, and data handling.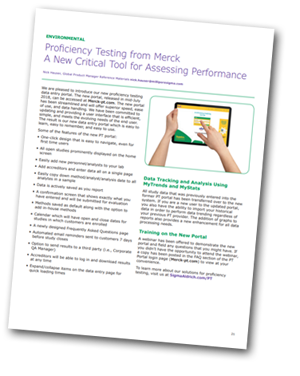 The user interface is efficient, simple, and meets the evolving needs of the end user. Features on the proficiency test portal are
One-click design that is easy to navigate, even for first time users
All open studies prominently displayed on the home screen
Easily add new personnel/analysts to your lab
Add accreditors and enter data all on a single page
Easily copy down method/analyst/analysis date to all analytes in a sample
Data is actively saved as you report
A confirmation screen that shows exactly what you have entered and will be submitted for evaluation
Methods saved as default along with the option to add in-house methods
Calendar which will have open and close dates for studies in which customers are enrolled
A newly designed Frequently Asked Questions page
Automated email reminders sent to customers 7 days before study closes
Option to send results to a third party (i.e., Corporate QA Manager)
Accreditors will be able to log in and download results at any time
Expand/collapse items on the data entry page for quick loading times
A webinar has been offered to demonstrate the new portal and field any questions that you might have. If you didn't have the opportunity to attend the webinar, a copy has been posted in the FAQ section of the PT Portal login page (Merck-pt.com) to view at your convenience.