Size exclusion chromatography (SEC) is a key analytical tool for protein characterization, but do you know exactly how it works, and what benefits it offers to the protein scientist?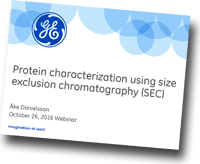 Separation Science, in collaboration wth GE Healthcare, offers an on-demand webinar in which you'll receive an introduction to size-exclusion chromatography (SEC) for protein characterization. Included are hints and tips for both high resolution and reproducibility of your analyses, as well as advice on selecting a pre-packed column for analytical SEC. Finally, the presentation will examine agarose-based resins.
The webinar, presented by Åke Danielsson (Research Director, GE Healthcare Life Sciences), will cover SEC basics and what types of information can be generated by the technique, optimal analytical SEC system configuration, advice on columns and how to select the most appropriate one depending on the analytical challenge faced, and examples of protein characterization workflows using agarose-based SEC resins.
The key reasons for viewing this presentation are:
learning how to configure the liquid chromatography (LC) system for maximum resolution in SEC

learning how to choose the relevant SEC column for a particular separation

learning how agarose-based SEC resins are an important complement to silica-based resins