This article from Issue 11 of the Analytix Reporter, produced by Merck, describes the addition of two new certified solution mixtures of labeled amino acids to the company's portfolio. These certified reference material (CRM) mixes are suitable for use as internal standards in isotope dilution methods (IDMS) and other research applications.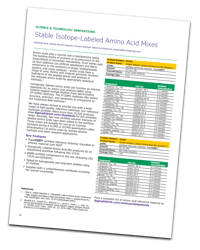 Amino acids play a central role in biochemistry being the building blocks of proteins or as precursors in the biosynthesis of secondary metabolites. From being used as food additives (as artificial sweeteners and flavor enhancers) to the synthesis of drugs, biodegradable plastics, and chiral catalysts - amino acids have a range of uses. Amino acid analysis generally involves hydrolysis of the peptide bonds and analysis of the released amino acids by appropriate analytical methods.

Isotopically labeled amino acids can function as internal standards for an amino acid analysis (AAA) using Isobaric-tagged isotope dilution mass spectrometry (IT-IDMS) methods. The IT-IDMS methods offer better accuracy, precision, and sensitivity in comparison to the traditional AAA methods.

Recently, two new certified solution mixtures of labeled amino acids have been added to the portfolio. These mixes are suitable for use as an internal standard during a LC/MS or GC/MS quantitation (after derivatisation) of amino acids by isotope dilution methods and other research applications. View SigmaAldrich.com/standards for the complete range.

Key Features


TraceCERT® certified reference material, traceable to primary material from NIST
Isotopically Labeled Amino Acid Mix produced by an established workflow following ISO 17034
qNMR certified components in the mix (following ISO 17025 accreditation)
Tested for homogeneity and long-term stability using LC method
Supplied with a comprehensive certificate including the overall uncertainty.
To receive regular copies of the Analytix Reporter eNewsletter provide your email address below:
*The life science business of Merck operates as MilliporeSigma in the U.S. and Canada.