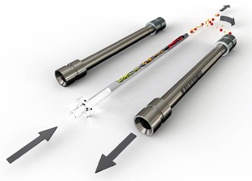 Electronic cigarettes, or "e-cigarettes," are a relatively new product that is experiencing a rapid growth in popularity. As a result, users, regulatory agents, and scientists are interested in assessing the safety or potential risks associated with the use of e-cigarettes.
Justin Frosina of British American Tobacco and Caroline Widdowson of Markes International, in conjunction with Separation Science, bring you a webinar on the use of thermal desorption (TD) for the analysis of e-cigarette aerosols.


Thermal desorption is a versatile GC preconcentration technology that is used to analyze volatile and semivolatile organic compounds (VOCs and SVOCs) from a wide range of sample types. This is done by concentrating the organic vapors from a sample into a very small volume of carrier gas.
TD maximizes the sensitivity of trace-level compounds, helps to minimize interferences, and routinely yields analyte detection at the parts-per-billion (ppb) level or below. The technique improves thoughput by allowing full automation of sample preparation, desorption or extraction, preconcentration, and GC injection.
The speakers discuss the theory and forms of TD, how it works, sampling techniques, and typical uses within a number of application areas — with an in-depth look at the application of thermal desorption to the analysis of e-cigarette aerosols. You will learn:
the challenges in collecting whole e-cigarette aerosol
how TD compares with existing smoke analysis techniques, and
how thermal desorption helps meet the challenges of assessing the safety/risks of first- and second-generation e-cigarette use.