At LECO'S GC×GC Workshop & Symposium (filmed at the LECO European Application and Training Centre, Berlin, Germany) Dr. Diane Turner gave a talk entitled "Selectivity: Where, When, and How to Use It!" The talk covers techniques for sample analysis, selectivity in choosing the right technical setup (column choice, inlet parameters etc.), and also data analysis optimization.
Click on the video image below to view this presentation.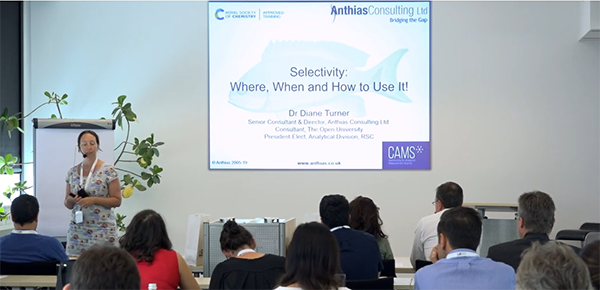 The presented content is related to applications in the field of GC×GC technology.
By viewing this presentation you will learn more about:
insights in GC×GC and TOF technology

sample collection and preparation

analyte separation and detection

technical setup and data analysis

solutions for GCxGC technology.

About the presenter

Dr Diane Turner is Senior Consultant and Director at Anthias Consulting Ltd., Consultant at The Open University and President-Elect of the Analytical Division at the Royal Society of Chemistry.

You may also be interested in this application note...

Discovery of Environmental Pollutants at an Electronic Waste Recycling Facility by Pegasus GC-HRT 4D
This study aimed to discover new and emerging organic contaminants in the environment of an e-waste recycling facility using comprehensive two-dimensional gas chromatography high resolution time-of-flight mass spectrometry (GCxGC-HRT).

For more information from LECO visit https://eu.leco.com/