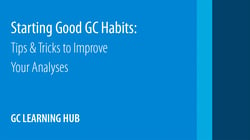 Separation Science, in collaboration with Agilent, offers a series of tutorials aimed at the GC and GC/MS user that form part of the 'GC Learning Hub'. In this tutorial you will learn some practical tips on preventive maintenance to ensure that you keep your GC instrument happy and prevent downtime.
Modules:
Module 1: GC Maintenance - When, What & How?
Module 2: Early Maintenance Feedback
Module 3: Changing Your Split Vent Trap and Other Good Habits
Module 4: Case Study - QC, Chemicals Lab
Module 5: Case Study - Environmental Lab
Module 6: Troubleshooting Starting Points
Run Time: 50 minutes
By viewing this tutorial you will learn to ...
Identify critical GC maintenance needs
Ensure consistent GC performance
Monitor chromatography quality, and column and consumables health
Boost your confidence for DIYing GC maintenance.
The Presenters

Angie Smith-Henry
(Applications Chemist for GC and MS Supplies, Agilent)
Angie is is an applications chemist for GC and MS Supplies at Agilent in Wilmington, Delaware, USA. Previously, she was an applications chemist for the MSD Solutions and Applications group with a focus on developing analysers and applications for energy, chemical and environmental markets. Angie holds a PhD in Physical Chemistry from Lehigh University and BS in Chemistry from Juniata College.

Rachael Ciotti
(Product Manager, Agilent Technologies, Wilmington, Delaware, USA)
Rachael Ciotti is a GCMS Application Chemist at Agilent in Wilmington, Delaware. Previously, she was a field service engineer specializing in installing, maintaining, and repairing Agilent GC and GC/MS systems. Prior to joining Agilent, Rachael worked at DuPont as an analytical chemist responsible for GC and GC/MS method development and transfer to manufacturing labs. She holds a Bachelor of Arts in Mathematics from Rutgers University.