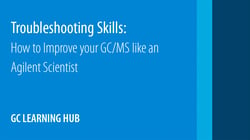 Separation Science, in collaboration with Agilent, offers a series of tutorials aimed at the GC and GC/MS user that form part of the 'GC Learning Hub'. In this tutorial you will understand how to troubleshoot GC/MS problems through the eyes of an Agilent scientist.
Modules:
Module 1: Strategies for Approaching the Problem
Module 2: Peak and Baseline Issues
Module 3: Correcting Active Sites, Working with Dirty Samples and Backflush
Module 4: Troubleshooting Your Detector
Module 5: Questions
Run Time: 75 minutes

By viewing this tutorial you will ...
Learn how to half-split and troubleshoot through problems on a GC/MS
Learn about GC and MS supplies and columns and how choosing the right supplies can affect the outcome of your analysis…for better or worse!
The Presenters

Angie Smith-Henry
(Applications Chemist for GC and MS Supplies, Agilent)
Angie is is an applications chemist for GC and MS Supplies at Agilent in Wilmington, Delaware, USA. Previously, she was an applications chemist for the MSD Solutions and Applications group with a focus on developing analysers and applications for energy, chemical and environmental markets. Angie holds a PhD in Physical Chemistry from Lehigh University and BS in Chemistry from Juniata College.

Vanessa Abercrombie
(Gas Chromatography Applications Chemist, Agilent)
Vanessa is a GC Applications Chemist at Agilent in Folsom, California, USA. Vanessa has a broad background in GC and GC/MS, including experience as an instrument chemist at Bode Technology in Virginia working under contract to the FBI's Laboratory Division. Prior to that, Vanessa worked for ETS Labs in St. Helena, California as an Analytical Chemist where she researched and developed quantitative separations by GC/MS and UHPLC for beer, wine, and spirits. She holds a Master of Forensic Science from The George Washington University and a Bachelor of Arts in Chemistry from Sonoma State University.