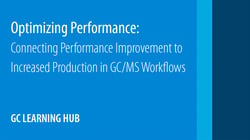 Separation Science, in collaboration with Agilent, offers a series of tutorials aimed at the GC and GC/MS user that form part of the 'GC Learning Hub'. This tutorial goes over some columns, liners and supplies that are critical to achieve optimal performance even for low-trace level analysis and deliver consistent reliable results.
Modules:
Module 1: Selecting the Correct Liner
Module 2: Choosing the Correct Column Technology to Maximize Productivity
Module 3: Application Examples - DB-5ms Inert
Module 4: Capillary Flow Technology Devices - Why, What, Where & How?
Module 5: Optimal Conditions for Trace Analysis Using GC/MS and GC/MS/MS
Run Time: 50 minutes

By viewing this tutorial you will learn about ...
Minimizing downtime and maximizing lifetime and sensitivity with the best supplies
The What, Why, and How of using Capillary Flow Technology (CFT) devices
Pre-swaging, installing, leak-checking and using flexible metal ferrules in your GC/MS system for trace level analyses
Optimal conditions for running GC/MS and GC/MS/MS for trace analyses
Selecting the right column type for your application.
The Presenters

Angie Smith-Henry
(Applications Chemist for GC and MS Supplies, Agilent)
Angie is is an applications chemist for GC and MS Supplies at Agilent in Wilmington, Delaware, USA. Previously, she was an applications chemist for the MSD Solutions and Applications group with a focus on developing analysers and applications for energy, chemical and environmental markets. Angie holds a PhD in Physical Chemistry from Lehigh University and BS in Chemistry from Juniata College.

Gustavo Serrano
(GC Columns Product Manager, Agilent)
Gustavo Serrano is the GC Columns Product Manager at Agilent in Wilmington, Delaware, USA. Gustavo has a broad background in GC technologies, including experience as an R&D scientist and product manager at Sigma-Aldrich/Supelco, where he worked on the development and commercialization of novel GC stationary phases. He has also published extensively in the fields of portable micro GC systems, GC columns and micro thermal modulators for GC×GC applications. Gustavo holds a PhD in Environmental Health Sciences from the University of Michigan, and an MBA from the University of Indiana – Bloomington.