Find out how to detect and quantify 2,4,6-Trichloroanisole (TCA) at levels well below its sensory threshold using HS-SPME for sample preparation and analysis performed with LECO's Pegasus BT GC-TOFMS system.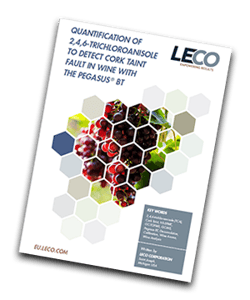 Cork taint is a common wine fault that leads to off-putting odours in a wine. Predicting this fault is challenging as it can occur in any naturally corked wine of any variety, vintage, price point or geographical region.

Analytically detecting cork taint is also challenging because the sensory threshold for 2,4,6-trichloroanisole (TCA), an analyte that is a large contributor to the off-odour and taste, is in the low part-per-trillion (ppt) levels for most people. Here, detection and quantification of TCA at levels well below the threshold are demonstrated. HS-SPME was used for sample preparation and analysis was performed with LECO's Pegasus BT GC-TOFMS system. The Pegasus BT provides full m/z range data and sensitivity, which make it ideal for screening target analytes and/or general unknowns. This robust tool makes your routine analyses easy and has the potential to uncover what you've been missing.
Download the application note and learn about ...
Pegasus BT's ability to detect and quantify 2,4,6-trichloroanisole at parts-per-trillion levels within a wine matrix
the benefits of LECO's Pegasus BT GC-TOFMS
targeted and non-targeted screening for routine high sensitivity analyses
easy routine analyses.
This application note may also be of interest...

Correlation of Chemical and Sensory Data to Track Aging of an American IPA Beer at Different Storage Temperatures
Shelf stability and how products change with age and storage condition is an important topic to both manufacturers and consumers. Understanding changes in the aroma profile over time can help to understand the shelf life of that product and possibly how it can be extended. Gas chromatography coupled to time-of-flight mass spectrometry (GC-TOFMS) is well-suited for investigating shelf stability applications because it provides non-targeted aroma profile characterization. Sensory analysis is also common for shelf-stability and general product quality applications as consumer-detectable changes are readily identified. In this work, chemical analysis is combined with sensory analysis to investigate the shelf stability of bottled beer as it relates to storage temperature.

Visit LECO at its Virtual Trade Show and ask for a free guided tour today!
Also...
On-demand eSeminar — The Power of GC-TOF-MS for Food and Environmental Applications
Discover how GC-TOF-MS and GC×GC-TOF-MS technologies can dramatically enhance your applications for food and environmental analysis and increase data quality and sample throughput. This on-demand eSeminar comprises two sessions: one dedicated to food analysis and the other to environmental analysis.
For more information from LECO visit https://eu.leco.com/