Many countries in the Asia Pacific region are stepping up regulations on food safety, a process that requires intelligent and informed adjustments to testing strategies and methodologies. This process includes food safety, food fraud and food authentication - the key focus of the Food Safety Analysis 2018 conference (27-28 November, 2018 - Biopolis, Singapore).
The Food Safety Analysis 2018 speakers have an excellent overview of these regulatory and analytical testing developments, from a global perspective, working in multi-national food analysis and testing companies. If you need to gain a better understanding of these evolving standards and regulations Food Safety Analysis 2018 is the event for you.
The technical programme will focus on key disciplines within food safety and testing techniques, providing attendees with a unique opportunity to keep ahead of current and future techniques.
Veterinary drug residues / antimicrobials

Food contact materials

Food fraud & authenticity

Food borne contaminants

Pesticides and agricultural

contaminants

Toxins & allergens

Pathogens

and more...
The conference is a two-day event and will cover the broad range of current topics and trends, as well as expanding the scientific poster programme and providing a first-class exhibition and networking opportunity.
Attend Food Safety Analysis 2018 and learn what food manufacturers and regulators' needs are, network with your peers, and establish new contacts with experts in their fields.


SCIENTIFIC PROGRAMME

Emerging Issues and Trends in the Analysis of Chemical Contaminants and Residues
Katerina Mastovska (Eurofins, USA)
Attendees to this presentation will learn about emerging issues related to chemical contaminants and residues in food, infant formula, and dietary supplements; analytical trends and advancements in the analysis of chemical contaminants and residues; and updates on related activities at the AOAC International.

Food Allergen and Gluten Analysis – Horses for Courses?
Bert Popping (FOCOS, Germany)
Attendees to this presentation will learn about international regulations and thresholds for food allergens and gluten; common and new detection methods – their pros, cons and pitfalls; and how to devise cost efficient strategies for detection to mitigate risk

Fifty Shades of Fraud Vulnerability in the Food Industry and the Food Service Sector
Saskia van Ruth (Wageningen University and Research, The Netherlands)
Attendees to this presentation will learn about the theoretical criminology-based concept of food fraud risks and their management, as well as practical checklists, and key fraud drivers and enablers for various chains and tiers
Mid Infrared Spectroscopy and Dairy: Targeted and Non-targeted Applications
Steve Holroyd (Fonterra, New Zealand)
Attendees to this presentation will learn how infrared spectroscopy is used in both targeted and non-targeted applications for food defence in the dairy industry; and some of the challenges unique to non-targeted methods and how to overcome them in practise.

Evaluation of Analytical Methods from the Food Industry Perspective
Dr Wei Zhu (Danone, China)
Attendees to this presentation will learn about analytical method development for food safety testing, evaluation of analytical method based on "fitness for purpose", and an Industry perspective on analytical method application.

Safeguarding Against Food Adulteration: Classical and New Technologies to Verify Food Authenticity
Gerhard Rimkus (Intertek Food Services, Germany)
Attendees to this presentation will gain an introduction to Food fraud, Food adulteration and Food integrity; the Top 10 of adulterated products and risk factors for food fraud, a 'targeted' and 'non-targeted' approach to food authenticity testing; as well as a case study honey on a comparison of classical and new technologies currently applied for testing honey authenticity.

Latest Developments for Assuring the Integrity of Our Food
Professor Paul Brereton (Institute for Global Food Security Queen's University Belfast, UK)
Attendees will hear how there is a major change in our thinking of how we mitigate food fraud risks and the role of analytical methods in that process. The need for methods (systems) that operate much earlier in the supply chain, rather confirming compliance/non-compliance post retail, will be presented together with examples of a range of solutions that can highlight food fraud risks before the product leaves the factory.

Validation and Verification of a Microbial Method - The Right Method for the Right Purpose
François Bourdichon (Food Safety Consultant, France)
Attendees to this presentation will learn how to decipher a validated recognised standard and/or alternative proprietary method from a non-validated (therefore questionable) one. Verification of the right implementation is also a key point expected from accredited laboratories but also more and more from routine laboratories. The global framework of ISO 16140 Parts 1 to 6 will be discussed.

Applications of Non-targeted Analysis in Food Fraud Detection
Guangtao Zhang (Effem Mars, China)
Attendees to this presentation will learn the basic principles of non-targeted analysis and their advantages over conventional targeted analysis. Some key analytical technologies (including vibrational spectroscopies, chromatography, and mass spectrometry.) that are used currently by the food industry to detect food fraud will be introduced. We will also present some real cases where these technologies are applied for the investigation of food integrity.

Analysis of Food Contact Materials
Emma Bradley (FERA, UK)
Food contact materials testing is used worldwide to make sure that food is not contaminated by any of the products it comes into contact with. Attendees to this presentation will learn about regulations and testing for food contact materials, as well as Non intentionally added substances.

Strategies for the Successful Analysis of Pesticide Residues in Fruit
Amadeo Fernández-Alba (University of Almeria, Spain)
Attendees to this presentation will gain an understanding of the key issues to consider for the analysis of pesticides in fruit, from sample preparation through chromatographic analysis and mass spectrometric detection. Recent examples will be provided.

Food Fraud in the Juice Industry
Mikko Hofsommer (GfL, Germany)
Attendees to this presentation will learn about recent issues of food fraud in fruit juices/concentrates, detection of adulteration in fruit juices/concentrates, and a novel technique for the detection of a sugar addition.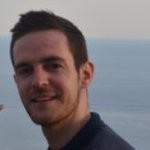 A New Approach to MCPD and Glycidyl Ester Analysis in Food
Quentin Baslé (Nestle, Singapore)

CONFERENCE VENUE
Food Safety Analysis 2018 will take place in the Matrix Building of Biopolis, Singapore. Biopolis is an international research and development centre for analytical sciences in Singapore. It is located at one-north in Buona Vista, and is close to the National University of Singapore, the Singapore Polytechnic, the Institute of Technical Education and the Singapore Science Park. Biopolis is dedicated to providing space for R&D activities and promoting peer review and collaboration - the perfect venue for Food Safety Analysis 2018.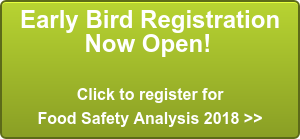 Food Safety Analysis 2018 begins in...