Food testing encompasses a wide variety of techniques and presents challenges at all stages, from new product development to quality control. Safety is the most important concern for both consumers and producers, and the strict concentration limits mandated by both local and global regulations require sensitive instrumentation. Authenticity is also a growing concern as consumers demand increased confidence in the origin and integrity of products, and profiling analyses are becoming more commonplace as producers seek to meet this need.
Access FREE resources and workflows for food safety and quality testing
SCIEX is a global leader in LC-MS/MS-based solutions for food testing, with sensitive and robust instrumentation that is relied upon in routine food labs across the world. To help food scientists gain confidence in reporting the right result every time, SCIEX offers the Food info kit, which is a compilation of useful content created by SCIEX and our collaborators and is available for download free of charge.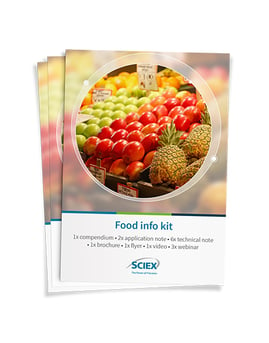 The Food info kit from SCIEX includes:
The Food compendium, which demonstrates

the versatility of SCIEX mass spectrometry instruments to fit the needs of industry regulators, academic laboratories and contract laboratories

Bonus technical notes that contain

the most recent content from our labs showcasing the new SCIEX Triple Quad™ 7500 LC-MS/MS System – QTRAP® Ready

Webinars that detail novel food-omics applications as well as traditional safety testing methods

Information on SCIEX vMethod™ applications for pesticides, mycotoxins, allergens and meat speciation analyses
Related to RUO-MKT-20-12029-A