Shimadzu has produced an application note describing the analysis of minerals and harmful elements in formula milk powder using ICP-MS.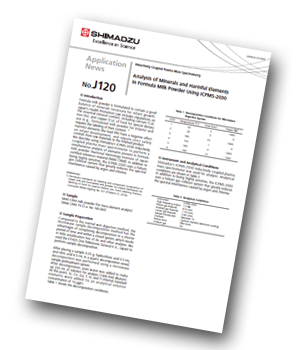 Introduction
Formula milk powder is formulated to contain a good balance of minerals necessary for infant growth. Japan's Health Promotion Law includes stipulations on the essential mineral content for special dietary use (e.g., formulated milk powder for infants) and requires the labeling of their content. Harmful elements like lead (Pb) have a negative effect on infant development, and require strict safety controls from raw materials to the finished product. This application describes using Shimadzu's ICPMS-2030 inductively coupled plasma mass spectrometer to perform a simultaneous analysis of elements present in formula milk powder (National Metrology Institute of Japan certified reference material [NMIJ CRM]).
Sample Preparation
The sample was NMIJ CRM milk powder (for trace element analysis) (NMIJ CRM 7512-a: No. MI-040). Compared to the normal wet digestion method, the microwave sample decomposition method has the
advantages of completing decomposition in a shorter period of time and within a closed system, which results in little volatilization loss of As and other analytes. In this application, the ETHOS One (Milestone General K.K., Japan) was used to perform sample decomposition.
Instrumentation
Shimadzu's ICPMS-2030 inductively coupled plasma mass spectrometer was used for analysis. In addition to being highly sensitive, the system uses a helium gas collision system that greatly reduces
the spectral interference caused by argon and chlorine.
Method and Results
Minerals and harmful elements present in formula milk powder were measured simultaneously using a
calibration curve method. The results for mineral elements were within the range of certified levels, and good spike and recovery was obtained for trace amounts of harmful elements.
Conclusion
The ICPMS-2030 was successfully used to simultaneously measure mineral constituents present in high
concentrations in formula milk powder along with trace amounts of harmful elements.


---