Do you work with environmental samples? Would you like to know how modern smartphone technology is being utilized to improve analysis? If so, read on...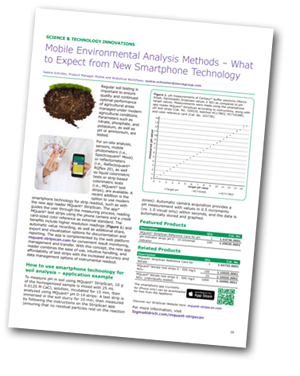 Regular soil testing is important to ensure quality and continued optimal performance of agricultural areas
managed under modern agricultural conditions. Parameters such as nitrate, phosphate, and potassium, as well as pH or ammonium, are tested. For on-site analysis, sensors, mobile photometers or reflectometers, as well as liquid colorimetric tests or strip-based colorimetric tests, are available.
A recent addition is the option to use modern smartphone technology for strip readout, such as with the new app reader MQuant® StripScan. The app guides the user through the measuring process, reading MQuant® test strips using the phone camera and a credit card-sized colour reference as external standard. The benefits include higher resolution readings and automatic value recording, as well as additional share, export and visualization options for documentation and reporting. The app is complemented by the web platform mquant-stripscan.com for convenient result monitoring, management and transfer. With this concept, the new app reader combines the ease of use, intuitive handling, and affordability of test strips with the increased accuracy and data management options of instrumental readout.
So how does it work? To measure pH in soil using MQuant StripScan, 10 g of the homogenized sample is mixed with 25 mL 0.0125 M CaCl2 solution, incubated for 15 min, then analyzed using MQuant pH 0-14 strips: A test strip is immersed in the soil slurry for 10 min, then measured by following the instructions on the StripScan app (ensuring that no residual particles rest on the reaction zones). Automatic camera acquisition provides a pH measurement with values in 0.5 increments (vs. 1.0 visual only) within seconds, and the data is automatically stored and graphed.